The Regular Armoured Corps Regiments of the Pakistan Army
The Regiments of the Pakistan Army Armoured Corps since 1956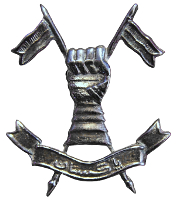 On partition in 1947 half of The Governor-General's Bodyguard and six regiments (5th, 6th, The Guides Cavalry, 11th, 13th and 19th) were allocated to Pakistan. The 12th, 15th and 20th were re-raised in 1955/56.
In 1956 Pakistan became a republic and regimental designations with reference to royalty were changed as were the badges.
New regiments later filled the vacancies and then were numbered onwards. Designations Horse, Cavalry and Lancers are used as a link to the past.